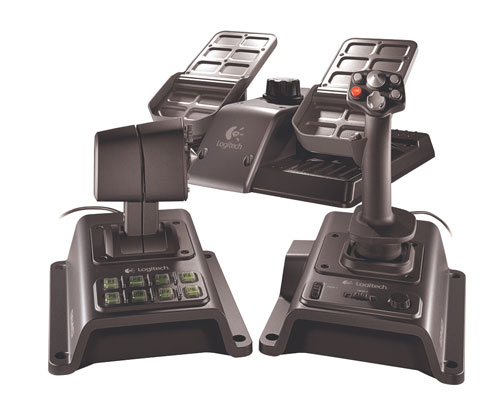 I am a big fan of Logitech force feedback racing wheels. I have one of the company's G25 force feedback wheels and it is fantastic. Logitech has made several force feedback racing wheels over the years, but the company hasn't put its force feedback technology into flight simulation gear until now.
Logitech announced the Flight System G940 today that includes a joystick, dual throttle, and rudder pedals inspired by commercial and military aircraft. The system includes more than 250 possible programmable button combinations that ensure that you don't have to remove your hands form the controls.
The joystick features a two stage metal trigger and six programmable buttons. The dual throttle has split design for multiple engine aircraft with push button interlocks. Logitech includes pre-designed legends to slip inside the buttons for specific controls like landing gear. The G940 system will launch in September at a price of $299.99.
joystick, Logitech