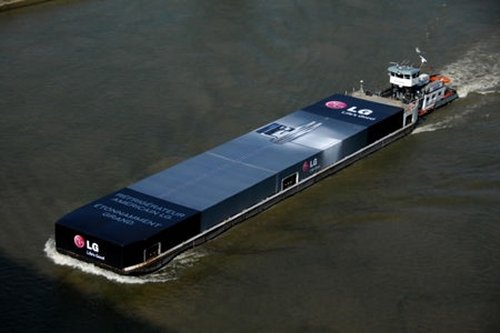 In a great bit of marketing, LG is attempting to lure consumers toward its latest energy efficient refrigerator with an unusual launch. The company has designed a 70-meter long container ship disguised as their new refrigerator.
The football field sized ship/refrigerator sailed up the Seine from Le Havre to Paris between June 22 and June 25. The company brags that the refrigerator consumes low power, though we aren't confident that the worldwide launch of this new LG side-by-side refrigerator was anywhere near environmentally-friendly. But it is clever.

The space-saving 617-liter refrigerator makes less noise due to a LG's "Linear Compressor" technology. Apparently the appliance requires 20 percent less energy than conventional refrigerators and has earned an A+ class rating in the European Union.
advertisement, container ship, Eco-Friendly, fridge, LG