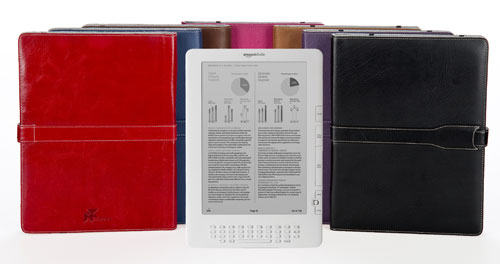 The Amazon Kindle is a cool gadget and has been one of the most popular devices on Amazon since it launched. Not too long ago Amazon unveiled a new larger screen Kindle designed with reading newspapers in mind called the Kindle DX.
The Kindle DX lacked any sort of protective cover for the large screen, which meant that if users weren't careful they could scratch the expensive gadget. A company called M-Edge has announced a new line of cases for the Kindle DX that includes the Executive Jacket and the Platform Jacket.
The Executive Jacket sells for $59.99, has a wrap around strap for closure, and comes in real or synthetic leather. The Platform Jacket covers the screen of the Kindle DX and has a built in stand to keep the reader upright for hands free reading and it sells for $59.99. Both products are set to ship on June 10.
accessory, Kindle DX