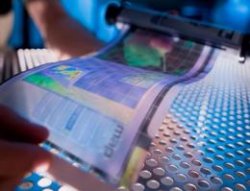 E-reader maker iRex promises to deliver a high-tech color, writable ebook reader by 2011. They claim that this device would have a brightness level three times that of the existing additive color electrophoretic displays, thanks to a system of subtractive color mixing.
Subtractive e-ink technology is compared to physical printing whereby colors act as filters to absorb portions of white light striking them and reflect back the desired hue. The additive system mixes together backlit or illuminated colors to create hues, often requiring filters that can reduce overall quality.

iRex believes that their subtractive e-ink displays will offer print-quality visuals to magazines and other full-color publications, and push them ahead of the crowd.
2011, color, ebook, iRex, reader