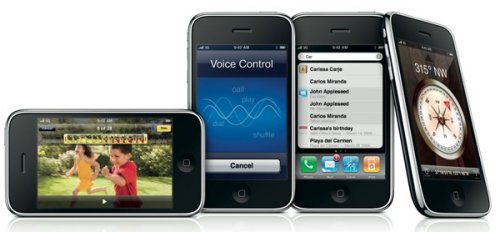 As we all knew, Apple's unveiled a new iPhone today at WWDC, the iPhone 3G S. The "s" stands for speed. Clever. Although it looks almost exactly like the 3G, it's…Well, faster. Some tasks are almost four times faster. Data speeds have been upped to 7.2Mbps HSDPA, and the camera is now a 3 megapixel unit with tap-to-autofocus and auto white balance. It now supports 30fps VGA video recording with editing features.
You're also getting a built-in compass, Nike+ support, and a new battery that offers 5 hours of 3G talk time and 9 hours of WiFi internet use. That's not all. Holding down the home button now enables a new voice control interface that lets you make calls or even control iTunes.

It also sports a new "fingerprint-resistant oleophobic coating." New and end-of-contract pricing is $199 for 16GB and $299 for 32GB when it goes on sale June 18th in the states. It will hit 80 more countries in August and the current 8GB 3G will remain on sale for $99, effective immediately.
3GS, Announced, Apple, iPhone, wwdc