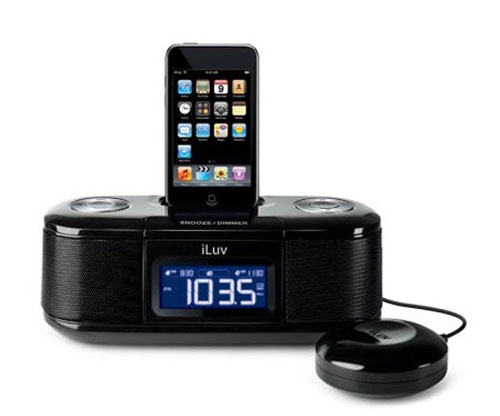 I have never been one to have a hard time getting up in the morning. My alarm goes off to music and I am up and about my day. My wife on the other hand could sleep through a tornado and never wake up. Her alarm usually wakes me up and then I have to shake her awake to get her to turn it off.
If you are the sort that needs more than a buzzer or music to wake up, the new iLuv iMM153 alarm clock with bed shaker for iPod may be just what you need. The clock supports all dockable iPods and has a 3.5mm auxiliary jack for the devices that can't be docked.
The front of the device has an LCD clock with large easy to read text and integrated speakers for music playback. The clock can wake you to music, FM radio, Buzzer or the bed shaker. The clock is available in black, white, pink, or blue.
Alarm, iLuv, iPod