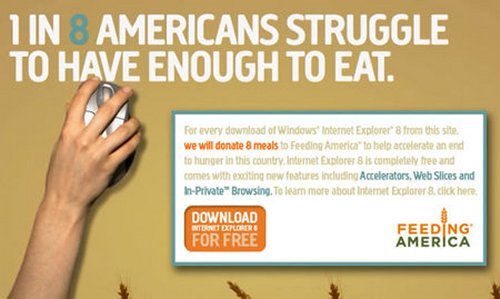 While downloading Internet Explorer 8, users found the following message: "Only complete downloads of Windows Internet Explorer 8 through browserforthebetter.com from June 8, 2009 through August 8, 2009 qualify for the charitable donation to Feeding America. Microsoft is donating $1.15 per download to Feeding America up to a maximum of $1,000,000. Meals are used for illustrative purposes only. Meal conversion is effective until June 30th, 2010."
When you do the math and split $1.15 among 8 users, it means $0.14 per meal. How is that feeding anyone?

Even worse than their math is the usual fact that these companies could be helping hungry people already. Why do we need IE8 to spur them into action? And then only $0.14?
download, Feeding America, food, hunger, IE 8, Microsoft