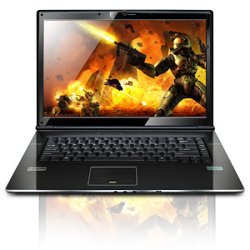 iBUYPOWER announced another brand new gaming notebook today called the M865TU and it's 15-inches of video gaming awesomeness. You'll have a ton of different processor options. The notebook has a starting price of $1,499 and is available in a 2.93GHz Intel Core 2 Duo T9800 version as well as many others. It's also capable of up to 4GB DDR3 memory, 1,680 x 1,050 resolution on the 15.6-inch LCD display and a NVIDIA GTX 260 1GB graphics card.
As usual this offering from IBUYPOWER is custom made for gamers who want top of the line graphics and video capability. You can also get an Intel X-25-M SSD option.

The iBUYPOWER M865TU Gaming Notebook offers desktop replacement power in a portable package and it's available now.
gaming, ibuypower, M865TU, Notebook