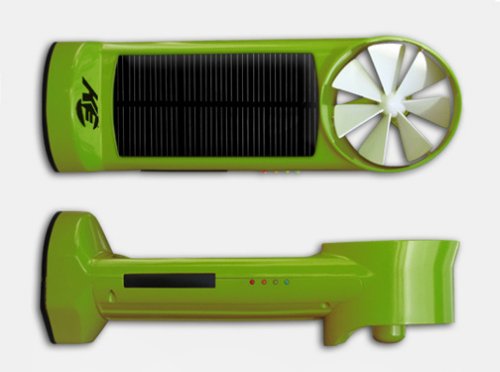 Here at the 'Brick we're always on the lookout for gadgets that can give us sweet gadget juice, without it costing money on our electric bills. So we checked out Kinesis' K3 power generator. The device sports both a windmill and solar cells, plus you can charge its internal battery with external electricity sources. So you can charge its 4,000 mAh battery using a USB adapter or a car cigarette lighter if you absolutely need power on hand.
According to the company, one hour of sun and wind will give you 30 minutes of talk time on a cellphone. Fully charged, the K3 can load the battery cells for an average mobile phone five times, or an MP3 player more than ten times. It costs $100.

Sadly, it won't power laptops and other large devices, but it's a green way to power most any small gadget. Digital cameras, GPS, MP3 players, mobile phones etc. So how does it fare in our test?
The results are interesting. It arrived with a full charge and I intended to see just how many gadgets I could charge before it drained. So I charged up about 4 MP3 players, some cameras, a few mobile phones, my DS etc. Then I simply left it in my livingroom, which gets only a moderate amount of sun and not enough of a breeze to turn the windmill. Problem is, this device is so good at catching the sun, even inside, with it's solar panel that I could never completely drain it no matter how many gadgets I charged. So that's a plus. You will always have juice on hand just by leaving it in a room with a large glass door. It just keeps going and going.
The windmill in the device is so sensitive that it will spin in extremely mild breezes, making it easy to charge up with wind power. Between sun and wind options, I can't imagine never having a power with this thing.
It's green, but will it really save money on your electric bill? I think so. Not a ton, but if you have a ton of small gadgets, it should save you enough to pay for itself eventually. I can see this device really coming in handy in a small to medium sized office with access to open windows and sunlight. If the employees of this office used it to charge up their gadgets, that company would save a ton of money.
The design, while not beautiful is well thought out to catch both sun and wind. As soon as you use it, you can't help but notice how a lot of thought went into it. It comes with a charge cable and few attachments for more popular devices. Apparently more attachments are or will be available. There's a cavity on the base of the device to hold your tips/attachments. It also comes with an AC wall plug in case you need to charge it yourself from the wall.
Our final word is that we like it. It exceeded our expectations. We can't wait to see where generators go from here. And hey, most of us have enough gadgets that we really should think about getting them to stop sucking off the grid. $100 seems steep, but that depends on how much stuff you are powering. You'll be able to get one in July of 2009.
Generator, Hands on, K3, Kinesis, power