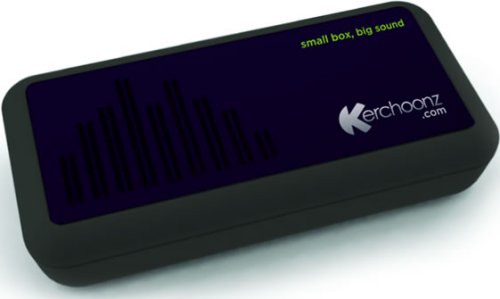 We told you about the K-box from Kerchoonz a few weeks ago. The portable speaker that aims to turn nearly any surface into a speaker with an emphasis on bass. It's targeted at those who want sound on the go, but don't want to carry bulky speakers with them.
It's about the size of the iPhone and yes it really does turn your tables, walls and other flat surfaces into giant speakers. It works by plugging into your laptop, portable gaming device, netbook, mp3 player etc. Anything equipped with a headphone jack.

We tried it out on a variety of surfaces. Walls, tables, cabinets, shelves, you name it. This isn't some tiny speaker that makes big claims and simply sounds like garbage.(We've seen our share) This for once is a genuinely useful way to always have music.
We were pretty impressed. It's fun to see just what surfaces will give you great sound. In our tests, glass tables really delivered the best sound. Even better than tables and desks. It pumps out some really decent sound with killer bass just like it promises. It's just too bad that there's no way to fix it to a wall. This device works great on walls. It sounded really amazing on my sliding glass door. I even found that it pumped out killer sound on top of an old squarish glass jar. And yes, this device works well enough that it can and will upset the neighbors.
So you are bound to have a surface around you that works well. Of course the volume that it puts out is dependant on the device that it's attached to, so it will vary. If you want to never be without your music and refuse to use headphones, this is a great portable gadget to use.
Hands on, K-box, portable, Review, speaker