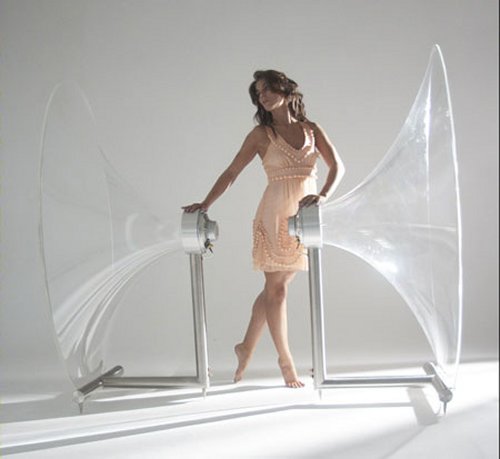 Some people really love transparent gadgets. Sometimes they can really beautiful, but sometimes they just look like 2 giant transparent bullhorns with a woman wearing a nightgown in between. This is a new design from Ferguson Hill dubbed the FH001.
The horn speaker pumps out 3 to 50 watts, so it isn't much of a speaker, but they are green. How are they green? Well, the speakers are made of clear acrylic and have a ultra high efficiency design. There's also a spherical subwoofer that looks like a fishbowl.

We don't care how green they are. Even if we had a spare $26,000, we wouldn't park these babies in our home.
000, 26, Eco-Friendly, FH001, Speakers, transparent