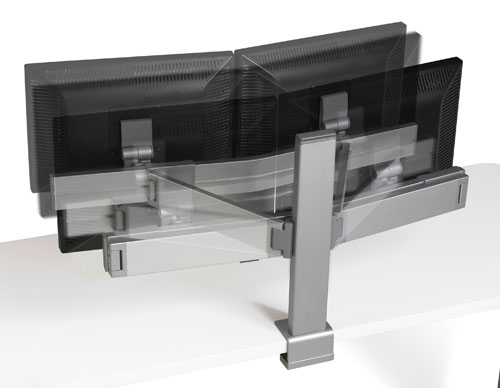 Large LCDs are a great way to get more information on your screen at once. Even better than a single large LCD is several large LCDs, the catch is finding room on an average desk to sit more than one 24-inch screen.
Steelcase offers all sorts of office chairs and other furniture and has announced a new LCD arm called the Eyesite. The arm can be configured to support up to three 24-inch LCDs in16:9 or 4:3 aspect ratios. When not needed the arm also folds almost flat to give more desk space.
The arm can be adjusted up and down with a feather-touch adjustment. The LCDs are held in a wrap around cockpit-style to make them easy to see and use. The downside to having three 24-inch screens is that they cost a lot and the arm itself is expensive. The Eyesite sells for $340 to $1,100 depending on how it is configured.
details, LCD, Steelcase