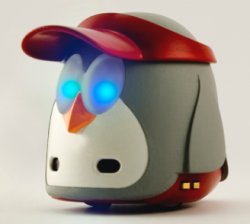 Pierre Bureau, the founder and CEO of Arimaz in Switzerland, recently showed off a demo of a prototype of a cute penguin robot that his company is planning to begin selling in September for $99. It's called MyDeskFriend. The idea is that this Penguin is a small companion for your desk.
It comes with a docking station which is hooked up to your PC. You can interact with the robot in a bunch of ways. It can follow your finger and will even detect the edges of the your desk so that it doesn't fall off, thanks to 5 infrared sensors. It also has an accelerometer, so it knows when it's being touched or shaken. The eyes will even change color depending on it's mood. If you shake it too much, it's eyes will turn red because you've made it mad. You can even connect it with your Facebook profile for the ultimate in dorky behavior.

What do you think? Want one?
companion, Cute, Facebook, Penguin, robot