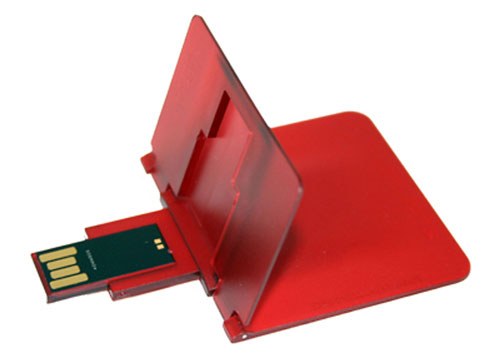 It can be a pain trying to keep a flash drive on you at all times. If you have a normal style flash drive, you have to carry it on your key ring or in your pocket. I hate having lots of stuff on my key ring and I always forget anything other than my wallet or my cell phone if it is in my pocket.
A company called TopTechProducts has a slick little flash drive that is shaped like a credit card and designed to fit into your wallet. The drive measures 3.4-inches x 2.1-inches x 0.11-inches. It is compatible with Windows, Linux and Mac computers.
The card folds in half and has a small USB connector that plugs into the computer. Storage capacity is 4GB, which should be plenty of space for most users. The drive is offered in orange, red, blue, clear, and gray colors. You can pick one up on Amazon for $24.99.
flash drive, USB