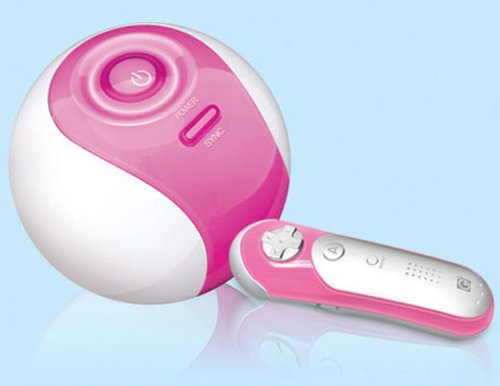 This oddly-shaped pink gadget is the Conny Q3 Sports, a video game console from where else? China. It's designed to play like the Nintendo Wii, just cheaper and crappier. The Q3 Sports sells for just $99 and includes 5 games. That's gotta keep you entertained for at least 15 minutes. Plus it looks like a Wii designed by a female razor company.
The Conny Q3 includes a wireless 3D motion-sensing controller, but it isn't as powerful as their Wii competitor. Mostly because it plays ONLY those 5 games. Nothing else. I hope you like "Hot Dance", fishing, bowling, golf or tennis. Excuse me, "tennies".

It comes in pink or blue. Both feature intense disappointment and self-loathing. If two children are playing, it will make one start beating another for obvious reasons.
Conny Q3, console, game, knockoff, pink, round, Sports, Wii