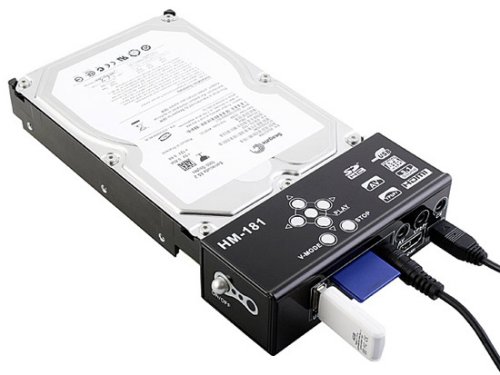 Hong Kong gadgeteer Brando can sometimes score a rare hit. We offer this SATA HDD Multi-Media Player Adapter as proof. This small adapter lets you plug in any SATA hard disk, SDHC card, or external USB drive, and play back its media with no computer anywhere. How sweet is that?
You have to wonder about the interface presented to you when you plug it into your TV via HDMI, component, or composite inputs. But even if it's horrible, you'll be able to view all kinds of audio and video formats on your TV, including MPEG-4, DivX, and AVI, without a PC anywhere nearby. That's pretty convenient.

It can't play back Matroska (.mkv) files and its playback resolution is limited to 1080i. It will cost you $69.
adapter, hard disk, HD, tv