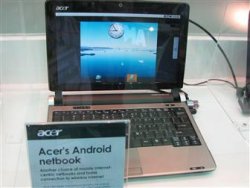 According to Acer chairman JT Wang, the first Android netbooks will ship with Windows in dual-boot configurations. If you wanted a clean break from windows with your new Acer netbook, looks like you are out of luck.
It's actually a smart move by Acer, since Android is unproven as a netbook OS. The last thing they need is computers that surprise the consumer by crashing every ten minutes. However, this is not the android netbook that people want. Loading windows on alongside of Android just makes it a bit of a novelty.

Are any of you interested in this?
Acer's first Android, Netbook, Windows