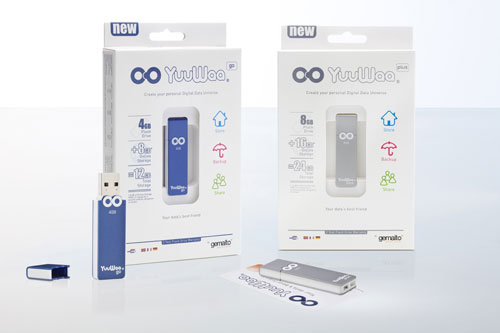 One of the most common ways to transport data and save files today is the ubiquitous flash drive. The little drives are available with tons of storage space and many of them offer encryption to protect sensitive files.
A new product form Gemalto called the YuuWaa has been unveiled that combines the function of a flash drive with software and secured online storage services. The device is available in two models with a YuuWaa Go featuring 4GB of flash storage and 8GB of online storage. The YuuWaa Plus has 8GB of flash storage and 16GB of online space.
Both products are available now with the Go selling for €19.99 and the Plus selling for €29.99. The drive offers a simple drag and drop interface making adding files to the drive easy. Files too large to be shared via email can be uploaded online using the device to a SSL secured online storage area where they can be downloaded or viewed by authorized users.
Gemalto, USB drive, YuuWaa