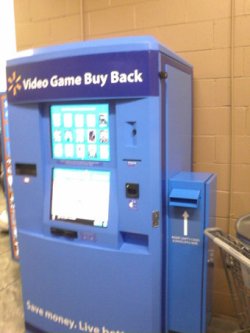 If you're sick of trading in your used games at gamestop or Amazon, Wal-mart would like to get your old games. Wal-Mart is currently testing an automated video game trade-in kiosk at 77-stores throughout the Northeastern United States.
Gamers can redeem "the trade-in value back to a credit card, which takes 2-3 days, according to the instructions on the company's website." Just scan the bar code on the game box in order to receive a quote. Once you accept the quote, insert the game discs (We aren't sure if the discs are checked for damage before being accepted). The rest of the process is unclear.

It's nice to have another option, assuming their trade in values are competitive.