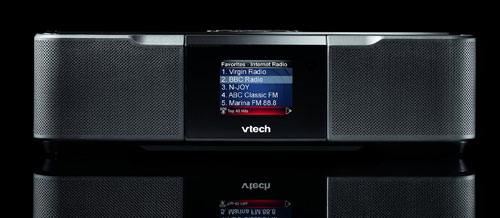 When I want to hear some music I usually just fire up my iPhone and don my earphones or play the music via my PC. Some people prefer streaming music and other entertainment from the Internet via Internet radio stations.
VTech has announced that its new Internet radio hub is now shipping and available for purchase online. The device is called the IS9181 and is called a feature rich Wi-Fi music streaming device intended to be a complete music hub for the home. The device sells for $199.95.
The device can playback audio files in MP3, WMA, AAC, WAV, and Real formats stored on PC or Mac computers. Any device using a 3.5mm headphone jack can also be connected to the IS9181. VTech says that the device can also be connected to other components via RCA cables.
internet radio, VTech