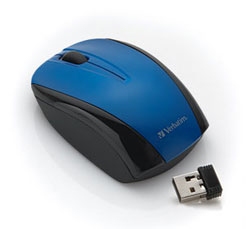 If you buy a typical wireless notebook mouse today, the USB adapter the thing needs can be about the size of a traditional pack of gum. That's not so bad if you are working form a desktop that you never move, but if you are working form a notebook that you carry around the chances of breaking that big dongle are good.
A while back Logitech introduced a VX Nano cordless mouse with a tiny USB dongle to prevent damage. Verbatim has now unveiled a very similar wireless mouse called the Nano Wireless Notebook Optical Mouse. The mouse has a tiny USB dongle that only protrudes from the notebook a few millimeters.
That means you really don't even have to remove the dongle to move the notebook around. The wireless mouse uses 2.4GHz technology for good connectivity and the mouse is available in several colors. Color options include blue, graphite, red, green, purple, yellow, and pink. The mouse retails for $29.99 and includes batteries.
mouse, Notebook, Verbatim