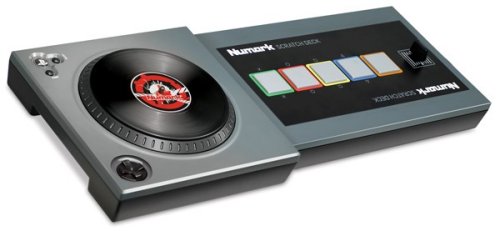 We've seen DJ Hero's turntable/controller, so here's the controller from The Ultimate DJ . It looks just like we saw in the screenshot.
It's a free-spinning, touch-sensitive turntable to the left with five Akai Pro MPC-style drum pad triggers next to a cross-fader. Looks like you'll be able to upload your own samples with a compatible USB mic as well as use the preloaded ones and you can rotate the mixer to the left if you are a lefty.

We'll likely see more of this at E3 and have more details.
controller, game, Numark, Ultimate DJ