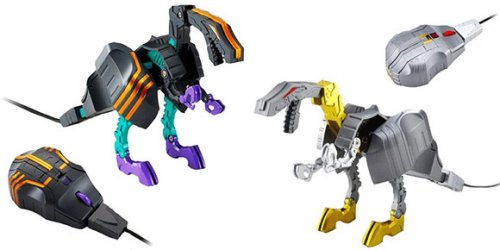 Mouse or robot dinosaur? No one knows for sure. But thank god the transformers in the new Transformers movie don't look as cheap as these. These are like the Ravage Transforming USB flash drive, just not as awesome.
Disguise your mouse as a dinosaur, or disguise your dinosaur as a mouse. Obviously you need to make them fight at some point. Only a whooping $60 and due in September 2009.

It's a 800 dpi three button laser mouse for you to play with while searching Google images for Megan Fox playing with large transforming robots.
Dinosaur, laser, mouse, robot, Transformer, Transforming, Trypticon