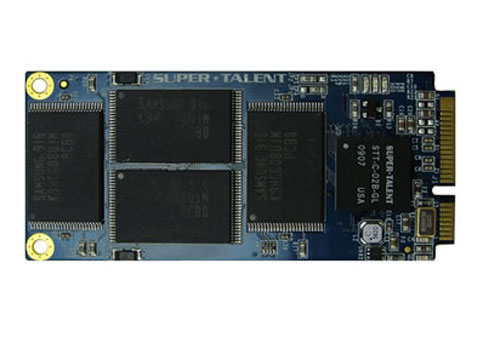 Asus created the very successful netbook category in 2007 when it first loosed its Eee netbook onto the market. It took a while for the small screened machines to catch on, but once they did nearly every PC maker now offers netbooks.
Super Talent has announced a new line of SSDs aimed at users looking to upgrade their Asus Eee 900, 901, 901A, 901 GO, and S101 netbooks with faster storage. The new SSDs are available in both MLC and SLC versions.
The MLC versions of the SSDs have read speeds of up to 150MB/s and sequential write speeds of up to 100MB/s. Available capacities include 16GB, 32GB, and 64GB selling for $85.99, $125.99, and $219.99 respectively. SLC versions of the SSDs will be offered in 16GB and 32GB capacities with read speeds up to 170MB/s and write speeds of 130MB/s.
Eee, SSD, Super Talent