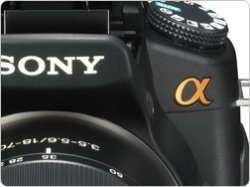 Sony is preparing not one, not two, but three entry-level Alpha digital SLRs for a launch in the near future. A drop-down menu on the company's UK support page gives it away, revealing the A330 and two lenses (50mm and 18-55mm) when choosing from cameras, plus an analyst's Twitter update has also revealed the existence of the A230 and the A380. No details about either of these cameras.
Apparently the models are all direct upgrades to the A200, A300 and A350. The A200 and A300 have been entry-level models with fixed (A200) and swivel (A300) LCDs with 10.2-megapixel sensors and live view on the A300. The A350 has largely been a higher-resolution version of the A300.

Expect higher resolutions to some or all of these models.
A230, A330, A380, Alpha, camera, SLR, Sony