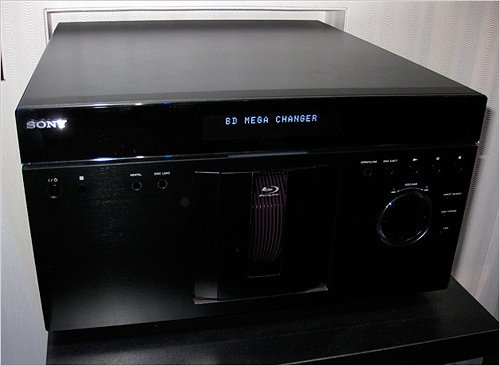 Looks like Sony will be releasing a 400-disc ES Series Blu-ray "Ultra Player" soon, for people who never leave the house. If this isn't big enough to hold all of your movies, you need to get out from in front of the TV more. Do you think anyone owns 400 Blu-Ray discs yet? Maybe one guy out there.
Anyhow, we will soon see two new Blu-ray products from Sony: BDP-CX960 and BDP-CX7000ES. Most likely the CX960 will feature a 200 disc changer and the top of the line ES model will have a 400 disc capacity. Expect the Es model to cost about $2250.

Sony has shown its BD Changer prototype several times at IFA and CES and it looks like it is ready to bring it to the market.
400-disc, Blu-ray, Changer, Sony