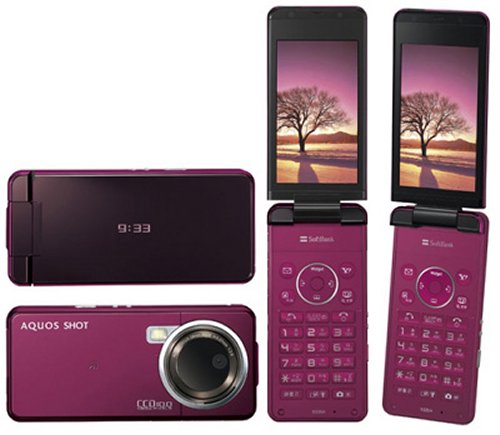 SoftBank has rolled out the Sharp AQUOS SHOT 933SH 3G camera phone, equipped with a 10-megapixel CCD camera. It measures 110.6mm × 51mm × 16.7mm and weights in at 127grams. In the color shown above it's also pretty colorful and fruity.
The phone also features a 3.3-inch VGA (854 x 480) wide LCD display, a 0.8-inch OLED sub-display, up to ISO 12800, 1-Seg support, GPS, Bluetooth connectivity, global roaming service, and video recording up to 10MB capacity. It's available in Ivory, Black, White, Bordo and Blue. How much will the Sharp AQUOS SHOT 933SH cost you?

It retails for 47,520 Yen or $497 if you're all out of yen.
10MP, camera, phone, Sharp, softbank