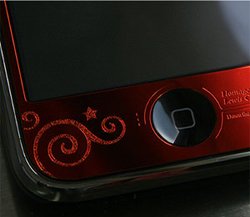 SGP makes metal skins for iPhones, iPods, cell phones, MP3 players, laptops and cameras. The skins are made of 24K gold plating or thin nickel and comes with a precision cut face plate. A word of warning, you better have a steady hand. The company warns, "Handle with Care. Thin and Sharp edge of this product may cause hurt." You don't want to experience the dreaded hurt, so be careful.
Each kit comes with skin and accessory stickers at prices between $14.99 and $24.99. They also carbon fiber, wood and leather covers. Maybe it's just me, but do you really want to cover your beloved gadget in this crap? I mean, if you love your device, you probably love or at least admire it's looks.

It's like a naturally beautiful woman who feels the need to plaster makeup two inches thick on her face. Ya know?
Electronics, gadgets, metal, SGP, skins