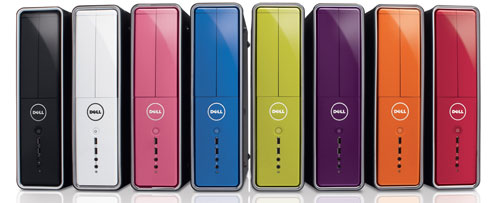 Dell's customizable addition to their Inspiron line will give you way too many color options to choose from. These include the 537 and the 537s. You have eight color choices in all and your choice of Intel Celeron, AMD Sempron, Core 2 Quad and Phenom X4 CPUs, up to 8GB of RAM, integrated Intel graphics or ATI Radeon GPUs, and up to 750GB HDD for the slim tower and 1TB for a mini-tower.
Or you could always just fire up the Della site with a gallon of ice cream and peruse what they have there. The starting price is $299 and they're all available now.

So if you are interested, tell us your color choice.
available, colors, Dell, desktop, Inspiron, Rainbow