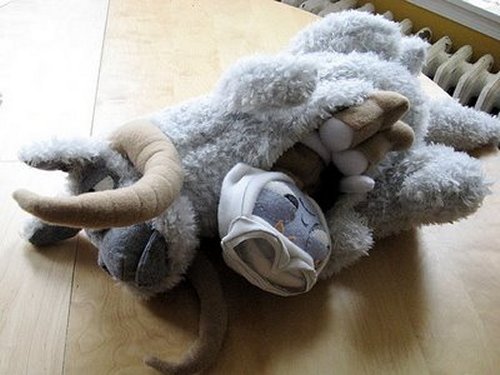 It's one of the most classic scenes to ever grace the silver screen. Han Solo goes in search of his buddy Luke. When he finds him, Luke is nearly dead from the cold. So when Han's Tauntaun kicks the bucket, he slices that sucker open and places Luke inside it's gooey belly warmth.
Yeah, this is like that, but plush. It's a plush Tauntaun with frozen Luke Skywalker by Heidi Kenney. Luke can be removed and inserted again into the Tauntaun's belly, which has a zipper. The Tauntaun will be part of the Stitch Wars exhibit, which will feature everything Star Wars/stitched.

I just wish I could buy it.
frozen, Luke Skywalker, Plush, Star Wars, Stitch wars, Tauntaun