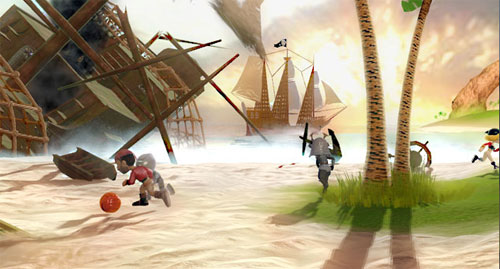 I have fond memories of dodge ball games form my elementary school days. You could always tell who was good at the game by the looks on their face when the coach rolled out that metal rack with all the red plastic balls on it. A smile and a woot meant watch out, a frown and a look of terror meant dodge ball fodder.
A game that pits pirates and ninjas in a dodge ball death match is now available for the Nintendo Wii. The game is called Pirates vs. Ninjas Dodgeball. If pirates and ninjas don't float your boat, you can also play as a team of zombies, aliens, robots, monsters, or mushroom men.
Eight different arenas are offered for the dodge ball matches. As you can imagine, the controls use the motion sensitive nature of the Wii to hurl balls as the enemy. I wonder if you get bonus points for hitting opposing players in the face or the nuts like in elementary school.
Dodgeball, video game, Wii