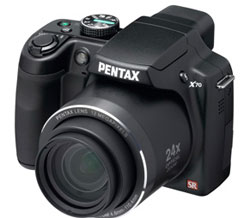 It's graduation time of year and that means that for many parents and other people with relatives graduating high school or college it is time to be looking for a graduation gift. Mothers Day will also be here soon and moms like to take pictures of stuff so a great gift idea is a camera of some sort.
If you are looking to spend the money to get a camera that is decent, Pentax is offering instant rebates on a couple of its cameras that will both make great gifts. The Pentax X70 is a point-and-shoot camera that offers a 24x optical zoom lens.
The X70 is being offered with a $30 instant rebate making the camera $369.95. If you are looking for something a bit nicer, the Pentax K2000 DSLR is getting a $50 instant rebate making the price of the camera $499.95 with an 18-55mm lens.
camera, DSLR, Pentax