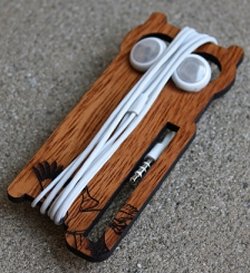 This owl earbud holder gives a hoot and he won't pollute your desktop. In fact, he will help keep your desk tidy by holding your earbuds all neat like. It's a DIY project that's simple to do. Just take a piece of wood, cut several holes in it, and make it look like an owl. Then wrap your portable MP3 earbuds around it. It's cute.
Much cuter than my solution which is wires all over my desk in a huge mass that is more puzzle than usable gadget cords. To each their own.

Yeah, I need to make an entire owl family. Things are out of control.
DIY, Earbud holder, owl, project, wood