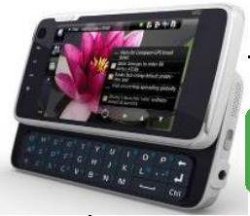 Look what we have here, Nokia's successor to the N810 Internet Tablet, specs and all. The N900 is Nokia's most powerful and capable tablet to date and comes with HSPA connectivity.
The N900 weighs 180 grams and is 59.7mm x 111mm x 18.2mm in size. It features a 3.5 inch touchscreen with a resolution of 800×480. Some other features are: a 5 MP camera with Carl Zeiss lens with dual LED flash, autofocus and sliding cover. It will become official in June.

Looks like Nokia is really focusing on that area between smartphones and netbooks. We will soon see if the masses get truly excited about this one or not.
N900, Nokia, Rover, specs, tablet