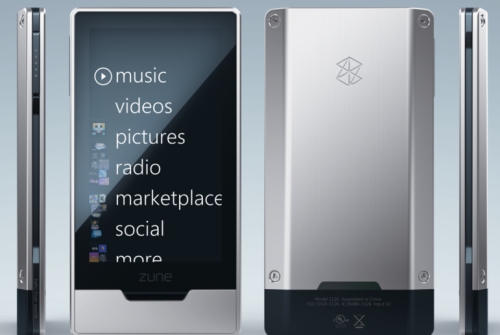 Microsoft made the official announcement late Tuesday that the Zune HD, the next generation of the Zune media player, would indeed be hitting the market in the near future. The Zune HD packs some new features including built-in HD radio, high-def video out, OLED multi-touch screen, WiFi and an included internet browser.
The HD radio feature sounds like it will work much like any other HD radio, allowing users to preset stations with three separate sets of channels to preset. Users can also "tag" songs they like while listening to purchase them later on. In addition, the WiFi feature combined with a web browser should allow for media streaming from internet radio as well, and of course from the Zune music store.
The 3.3-inch OLED multi-touch is certainly a nice added feature and makes the Zune HD player that much more of a threat Apple's iPod touch. It displays a 480×272 resolution with a 16:9 widescreen capability. It will also output video content as high as 720p through an HDMI docking station (which doesn't come with the device).
The Zune HD site also mentions a QWERTY keyboard, no doubt to make surfing the web and social interactions easier through the web, and a built-in accelerometer for reasons we'll have to wait and see.
Microsoft left out some details at this point as to the price of the Zune HD and an exact launch date, but did say it would be available in the U.S.
Media Players, Microsoft, Zune, Zune HD