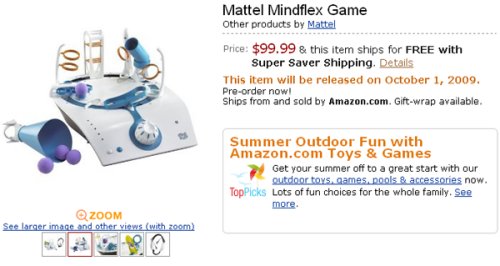 The hottest new toy trend for 2009 has nothing to do with video games. It's all about mind control games. The Mattel Mindflex game was introduced at CES 2009 and then got some larger exposure at Toy Fair 2009.
The game turns you into a Jedi, as you levitate a small ball with the power of your mind. The headset contains sensors that measure your brainwave activity, so that when you focus your concentration, a small foam ball starts to levitate as the sensor signal controls an air stream in the Mindflex base.

Concentrate and the ball rises higher. When you relax your mind the ball descends. Using a knob you then have to guide the foam ball through an obstacle course.
game, mattel, Mind Control, Mindflex, pre-order