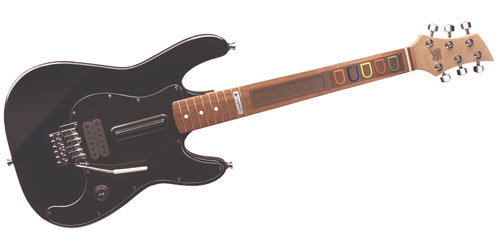 Back in January when I was at CES Logitech was showing off their red wireless guitar controller specifically for the Guitar Hero games. The controller was very cool, but was a very hard to find item available in only certain areas.
Logitech has now announced a new black version of the Logitech Wireless Guitar Controller Premiere Edition that will be available globally. The guitar is licensed for Guitar Hero only and will only work with that game, Rack Band fans are out of luck.
The body and neck of the guitar are made from wood and the fingerboard is rosewood. A touch-sensitive slider is located on the neck of the guitar and the fret buttons use rubber dome technology. The rubber dome tech allows the fret buttons to offer good tactile feedback while making less noise. The wireless controller has a 30-foot range and works with the PS3/PS2 consoles. The controller will ship this month in the US for $199.99 and in Europe this June.
Guitar Controller, guitar hero, Logitech