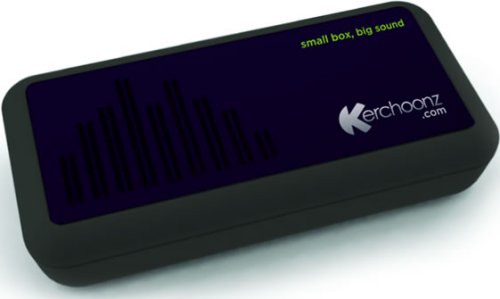 Kerchoonz has announced the K-box, a portable device about the size of the iPhone, that will turn your tables, walls and other flat surfaces into giant speakers. It works by plugging into your laptop, portable gaming device, netbook, mp3 player etc, that is equipped with a headphone jack.
Just set it on a desktop, table top or wall and with its internal patented gel audio technology, it will turn the entire surface beneath it into a giant speaker, with some fantastic bass sound. I wonder if it will honk off the neighbors in your apartment building if you just put it on the wall and crank up the tunes?

The K-box is available from Kerchoonz for £39.99 (or about $64). We'll let you know more about this device when we get a review unit very soon.
K-box, kerchoonz, Speakers, tables, walls