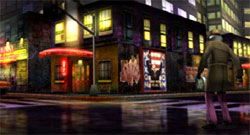 When the Watchmen movie came out a few months ago, I rushed to the theater to see it. After watching a few minutes of blue wanger flapping around on screen I decided that the film wasn't for me. Hopefully the video game will have less smurfy penis as part of the plot line. A powerful superhero should be able to afford underwear.
Warner Brothers has announced a new hybrid offering for the PS3. A single disc will offer fans of the franchise the Watchmen film and the Watchmen: The End is Neigh video game based on the film. The film itself will be a HD Blu-ray title.
A second video game for the franchise will be launched in July called The End is Neigh 2 that will be released in conjunction with the director's cut of the Watchmen movie. I wonder if the director's cut will mean more blue weenie or less.
game, PS3, Watchmen