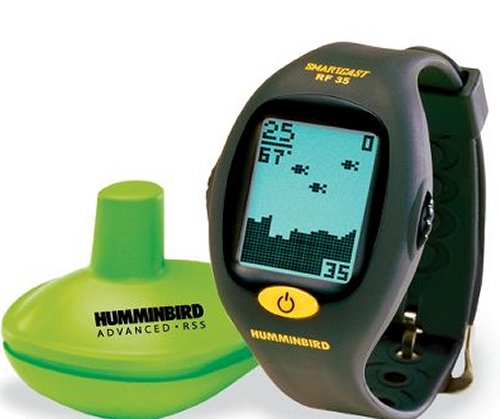 So you love fishing, but the fish don't love you. They just stay away from you like you have some kind of fish restraining order against you. Well, the Humminbird RF35 Fish Finder Watch is here to help. It's a timepiece that also boasts GPS capability, featuring a 1.25″ display and a remote sonar sensor that is able to find fish within a 75-foot radius.
The data is transmitted to your watch in real-time, but it is only effective for depths of 120 feet, using its 90-degree sonar. When on land, the Humminbird RF35 Fish Finder Watch is just a typical watch, with a backlit display and a pulse-lit advanced sensor for night fishing.

It retails for $79.99. Now I'm not saying it will look good on you. It kinda looks like someone took an incredible Hulk turd and shaped it into a timepiece. But hey, it will get you fish.
Fish Finder, Humminbird, RF35, watch