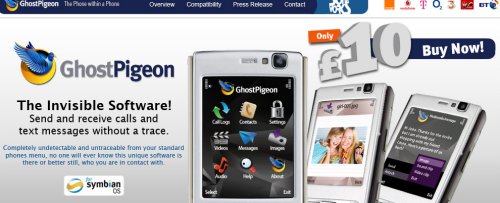 Are you doing stuff that you shouldn't be doing? If so, then you probably don't want to get caught doing that stuff. We don't want to know. But the Ghost Pigeon can help you keep things on the down low. It's a piece of cloaking software that masks all incoming and outgoing calls and text messages on your handset so people can't examine your phone and discover who you've been in contact with or even when.
It's not all shady stuff. It's likely useful for employees searching or interviewing for a new job on their company phone, or for CEOs negotiating a golden handshake and stuff like that. I mean, not everybody is a drug dealer or a smuggler etc.

The software itself is apparently also undetectable and can only be accessed by typing in a passcode number. It's Nokia Series 60 compatible only at the moment though, which makes it useless to most people. Only £10.00.
Ghost Pigeon, mobile phone, texts, Untraceable