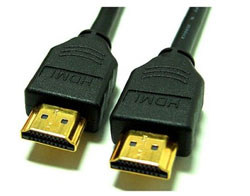 We can all thank HDMI for releasing us form the need for running a second cable for audio from our components to the TV or A/V receiver. I still have nightmares of having to switch the optical cable from source to source manually each time I wanted to play a game or watch TV.
HDMI Licensing LLC has announced some of the major features coming in the new HDMI v1.4 spec. The full specification list is set for availability no later than June 30, 2009. Among the new features is an HDMI Ethernet channel that allows HDMI devices to connect to each other with 100Mbps speed without the need for additional cables.
Other features include an audio return channel to reduce the number of cables needed, 3D over HDMI support, and support for resolutions up to 4096 x 2160 at 24Hz. Support for expanded colors is included along with a new micro HDMI connector for portable devices 50% smaller than standard HDMI ports.
HDMI, Version 1.4