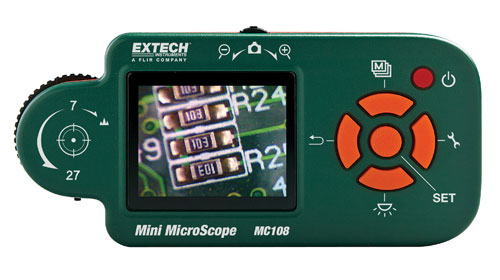 I haven't used a microscope since I was in college. I had on old school microbiology teacher that liked to torment students by whipping out an old microscope that actually used a mirror rather than a plug in light source. Thankfully, for identifying unknown microorganisms we got to use modern microscopes.
A company called Extech has unveiled a new digital mini Microsoft that looks more like a digital camera than a microscope that we would see in school today. The device has an optical zoom of 7x to 27x and includes an additional 4x digital zoom for a total of 108x magnification.
The microscope weighs 2.5 ounces and is smaller than the typical mobile phone. The screen is 1.8-inches wide and an output on the microscope allows you to view objects using a PC monitor. The CMOS sensor in the device is a 300,000 pixel unit and it features a four adjustable LEDs for better illumination. Power comes from three AAA rechargeable batteries and the microscope sells for $299.99.
Extech, Microscope