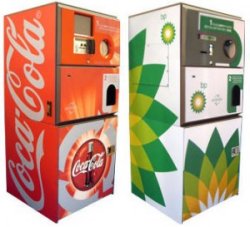 Envirobank's "cash for cans" reverse vending machines hold up to 3000 containers and accept PET (#1),HDPE (#2) and PVC (#3) plastic, brown, clear and green glass and aluminum cans. Deposit your recyclables in these and you'll get credits for discount shopping.
Pretty nice incentive to recycle your goods huh? It may not give out snacks, but Envirobank claims that their machines cut CO2 emissions, reduce waste disposal and collection costs, and even provide advertising and fund raising opportunities for those who need it.

They will accept, clean and crush your trash and all you have to do is watch a targeted advertisement on the LCD screen. Some have already been deployed in Australia on a trial basis.
Envirobank, recycle, recycling, reverse, vending machine