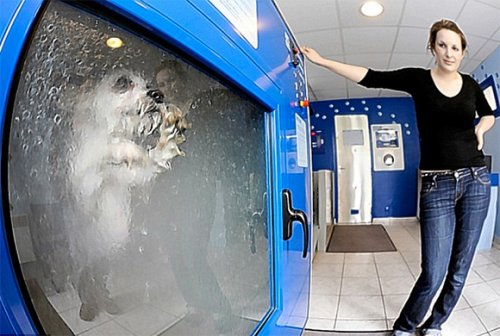 Just look at that poor pathetic pooch. He's in a "washing-machine". A dog washing-machine. Yes it's the Dog-O-Matic, a mini car-wash for dogs. It will rid your beast of flees with ease, so you can rest asured that Fido's hair won't make you sneeze.
Yes my friends, the Dog-O-Matic will clean the entire range of your pooch's mange. Just take a gander at the lack of dander. Only takes one terrifying(For your dog) half an hour. It's from Romain Jarry, who insists that the device is not cruel. He plans to introduce it to U.K. next year, and the dogs are worried.

Poor doggy. We need a Shamwow commercial on this thing.
automatic, dog, Dog-O-Mat, machine, vending, Washing