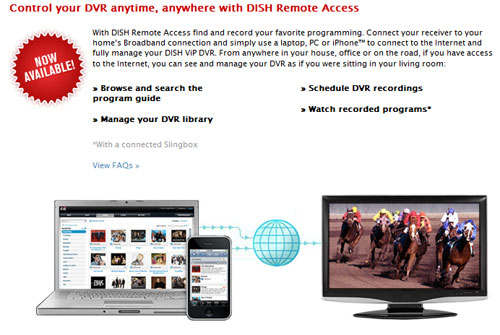 The cable company that serves my neighborhood sucks. They have about only a few HD channels and didn't have DVR's until last year. The company is totally stuck in the early 2000′s. I opted to go with DirecTV instead of cable or Dish Network because DirecTV had more HD offerings at the time.
DirecTV launched a new app for the iPhone not too long ago that allows you to access your DVR, even if it's not connected to the Internet, and schedule recordings. Dish Network has announced that it is now offering a service called Remote Access that allows users of Dish Network DVRs to access their DVR and record programs from any computer in the world.
The catch is that the Dish Network DVR has to be connected to the Internet. Once users access the DVR they can use a 9-day program guide to choose recordings to schedule. Programs can be searched by title, channel, or genre as well. Only specific DVRs can get remote access including the ViP 722k, 722, 622, and 612 HD DVRs.
Dish Network, DVR