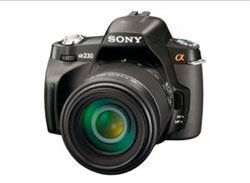 Sony has been offering its line of Alpha DSLR cameras for a while now. Many of its cameras are not targeted at entry-level DSLR users in price of features. Sony has announced full details for its new DSLR cameras including the a230, a330, and a380 cameras.
We talked a bit about the cameras earlier this month, but at the time no details were available. We now know that the a230 and the a330 are both 10.2-megapixel cameras. The a230 is being billed as the lightest and most compact DSLR camera body ever offered at 15.9-ounces.
The higher-end a380 will sport 14.2-megapixels. All three models sport a new control layout that allows the cameras to be controlled with one hand. All feature the SteadyShot Inside image stabilization system to reduce image shake on every lens used on the camera. The cameras will retail for $850 for the a380L kit, $650 for the a330L kit, and $550 for the a230L kit, all including the SAL-1855 zoom lens. Another kit offering a SAL55200 telephoto lens and the SAL-1855 lens adds $200 to each kit price. Pre-orders for the cameras begin today.
camera, DSLR, Sony