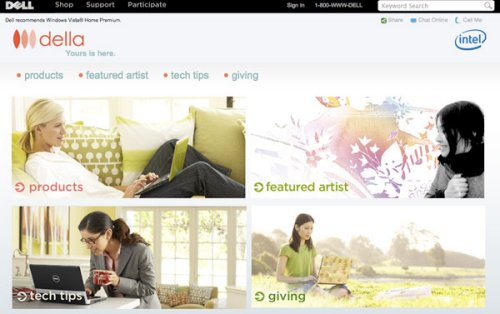 Just ten or so days after Dell officially launched the female-oriented Della, a site that helps women find computers to hold their recipes and count their calories, it's over. Word is, that Dell broke up with her via a text message. Dell just wasn't that into you baby.
She's been replaced, with the similar, yet less femininely named "Lifestyle."

If you are wondering why Dell ditched her and what all the hub-bub is about. Click on their tips section and have a look at some of the comments. Stuff like:
I found this extremely helpful…I've decided to buy a Mac.
or
I have to wonder where the sexist attitude demonstrated by this site came from. Maybe too many Indian males working in the marketing department? Outsourcing your reputation might be a bad idea, Dell.
or
What a ridiculous and insulting marketing campaign. I hope the firm and people responsible are fired for this disaster. I'm confident they're all men… or women with some serious self-image issues. I'd write a letter to complain, but since I am a woman, I can't figure out how to use Microsoft Word: computers are too hard for me to use and understand. I just use them for diet tips and shopping. Idiots.
Dell is clearly not a hit with the ladies.
Dell, Della, female, women