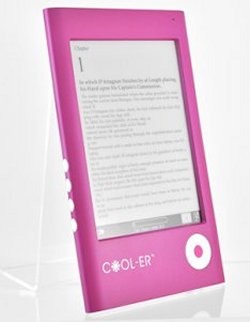 Here's yet another E-Book contender. Much Cool-er than the Kindle if it's name and fancy color is any indication. The Cool-er is by Neil Jones, an avid reader and entrepreneur. It boasts a larger selection of titles and will target an early June release date.
How many titles? It comes complete with 260,000 paid-for titles at launch from all the major publishers. 60,000 of those will be available in the UK and Europe initially. You also get a choice of eight different colors and languages for the Coo-ler.

This device uses a similar e-ink technology as the Kindle, and comes with a removable battery, memory card slot and 1GB of internal memory. You can also listen to tunes thanks to the headphone socket. $249.
Cool-er, e-book, reader