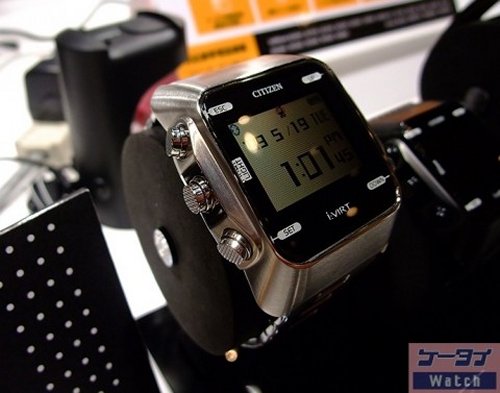 Citizen has announced a new Bluetooth watch, the AIBATO M. What's interesting about this one is that it wirelessly connects to your cellphone and can, with selected handsets, remotely trigger the camera, browse emails and show call and message alerts. It comes in two colors. Black (with a rubber strap) and silver (with a metal strap).
The watches charge using an included desk-stand. A full battery is good for up to five days. It will give you audio and visual alerts and can even vibrate. Various Sharp and Softbank handsets are supported, but it's unclear whether it will also work without the more complex camera control on other devices.

Nothing on pricing, but the Citizen AIBATO M watches will go on sale in Japan on July 1st.
AIBATO M, Bluetooth, camera, citizen, watch